Plot to Plate
Fruits and vegetables grown by our gardeners are delivered daily to the café which enables us to deliver the freshest dishes on our  "Plot to Plate"  menu.
Please see our specials board for new dishes fresh each morning (gluten free & vegan options available).
Lunch Served:  Tuesday -  Saturday's 11:30am - 3pm
Main Dishes
Hot from the pot (Vegan , GF)
Jacket potatoes with various topping options (Vegan, GF available)
Burger  (Vegan, GF available)
Wrap (Vegan, GF available)
Crustless Quiche
Freshly made omelette 
Light lunches
Superfood Salad - Selection of seasonal salads
Homemade Pasty, Mushroom Rolls, Seasonal Tart
Adult hummus with vegetables and pitta - GF and vegan
Our menu follows the rhythm of the British growing season, we support 'plot to plate' & use seasonal organically grown fruit & vegetables - ingredients & flavours are subject to change.
Scan our QR code to download our full menu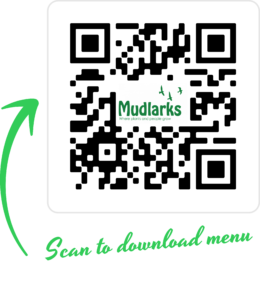 Children's menu
Wrap with cream or cheddar cheese & carrot, cucumber or tomato
2 egg omelette with cheese (add extra fillings for an extra 50p each)
Pitta pizza with tomato and mozzarella (add mushrooms or peppers for an extra 50p each)
Children's hummus and vegetable sticks with pitta
Cakes and desserts
Our artisan bakers Ines and Lara make a wide choice of additive-free cakes, pastries and desserts onsite daily.
Gluten free and vegan options available
If you would like to book afternoon tea at Mudlarks please speak to one of the team.
Our Coffee
Our organic fair-trade "Freedom Blend" coffee is sourced from Smith's Coffee Company.
It is a coffee with a superb flavour: almonds and red currants up front with a lovely warm dark chocolate and caramel aftertaste.